Take AIReal Yoga classes online anytime, anywhere.
Unlimited Access to a Robust Library of Tools & Resources
The AIReal Yoga Membership Portal is a membership-based program developed to provide tools and resources to support your at home AIReal Yoga practice, and/or your growth as a yoga instructor.Updated Monthly, you will receive exclusive yoga content designed to take private lessons from the comfort of home or help you expand your aerial yoga class offering and distinguish yourself as an advanced yoga instructor.
Explore the AIReal Yoga Membership Portal.
Exclusive Access to the Teachings of Carmen Curtis
Carmen is hailed as a "Teachers Teacher." Now, you have unlimited access to her wisdom and knowledge through the membership program. Carmen Curtis is a world renowned yogi, yoga festival presenter, cirque performer, aerial artist, and national champion gymnast. Before co-founding AIReal Yoga with her husband Gregg Curtis, Carmen competed for the UCLA Gymnastics team and performed with both Cirque du Soleil and Le Reve. After years of competition and performance training, Carmen discovered yoga as a healing practice to counter her intense physically demanding experiences. As a yoga student, Carmen studied under Gurmukh, Shiva Rae, and Bryan Kest. She artfully melds all three influences into her unique style of aerial Hatha Yoga and brings to her classes this unparalleled expertise in the movement arts.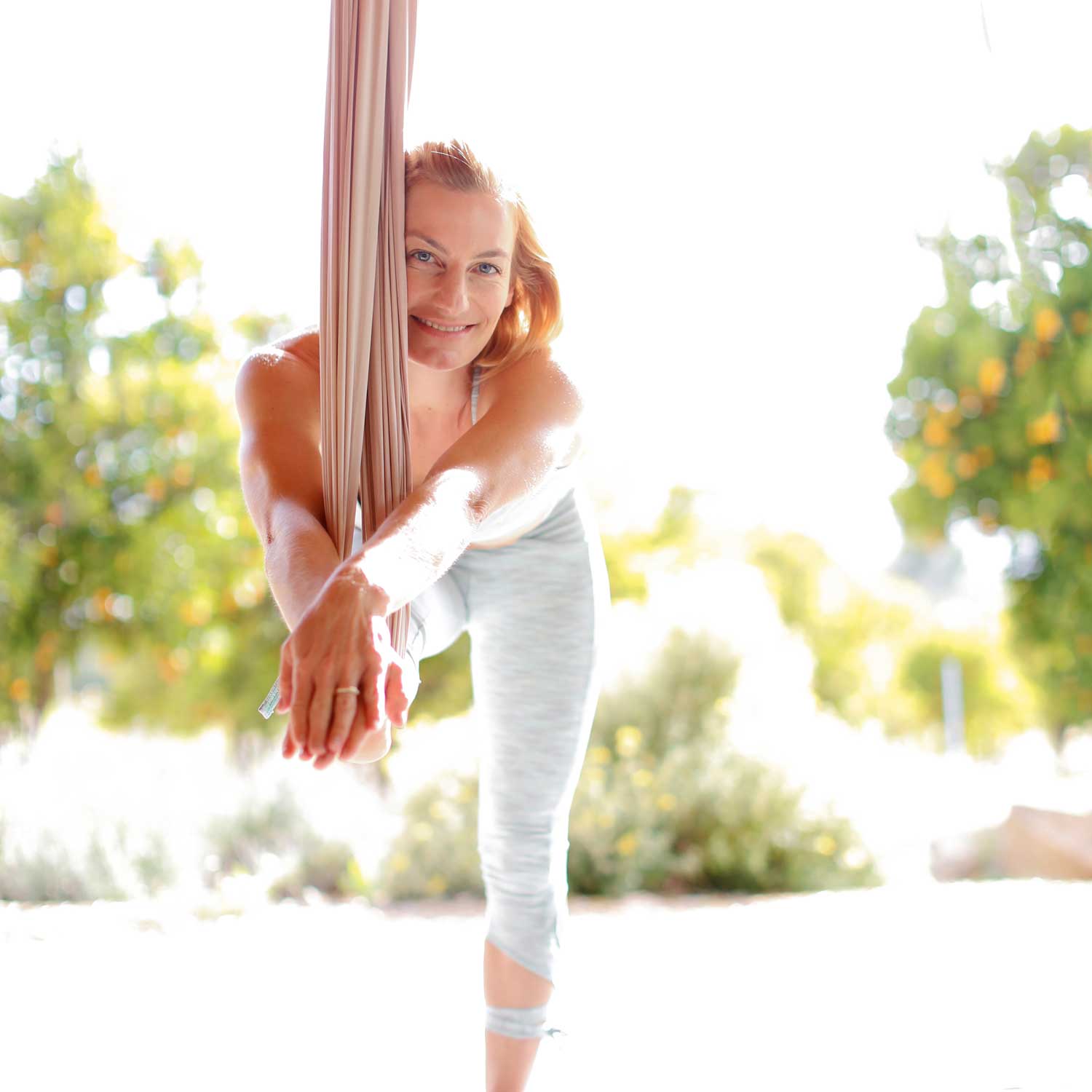 Carmen's Classes: Lesson Plans, Themes, Sequences & Playlists
Spice up your sequences with new yoga class styles and themes to add to your repertoire. Carmen delivers thoughtful Class Lesson Plans that will help you build and strengthen your ability to deliver impactful and meaningful aerial yoga classes of varying styles to your students. From aerial yoga for beginners to power yoga to restorative and yin yoga, Carmen's Classes will include the Class Theme, Class Level, Intended Student Base, Class Sequence, Yoga Class Video, Teaching Techniques, Benefits of Incorporated Yoga Postures, and accompanying Playlist. Keep your practice or teachings fresh, fun, and flying high. This is your must-have Yoga Schwag Bag.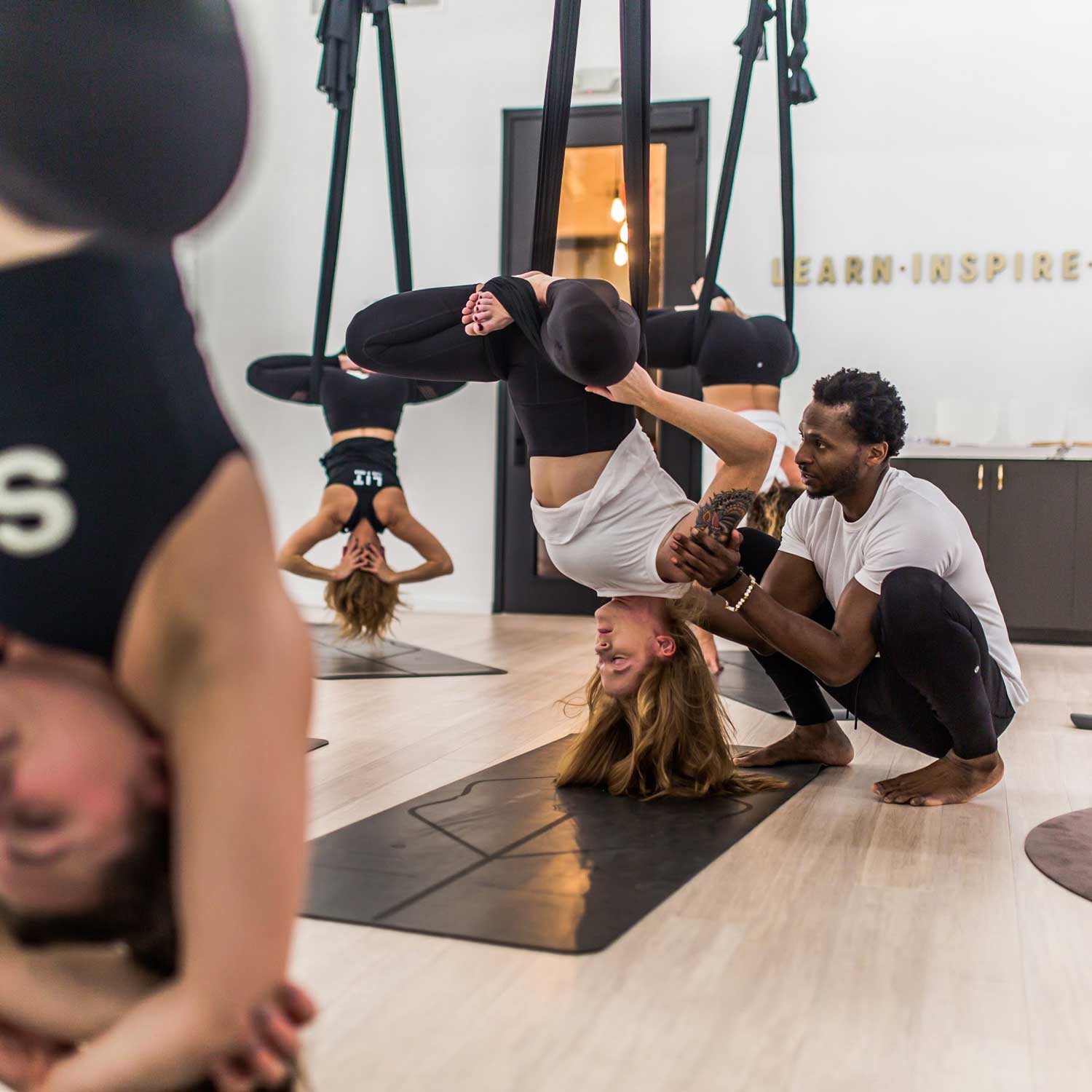 Posture Modules
 Posture Modules will concentrate on specific yoga postures, explain their benefits, and teach you how to safely build up to, modify, and progress each posture for you or your students. Expand and elevate your private practice or class offering by adapting the aerial Hatha Yoga Asana for students of all ages and levels. Go beyond basic yoga asana, advance your knowledge and skills and deepen your understanding of yoga asana.
Teaching Technique Guides
For teachers that are part of our membership you can improve your ability to lead an inspiring class. As Teachers, we are forever students: there is always knowledge to gain, techniques to develop, and it is important we remain open, willing to learn, and ready to evolve in order to improve. Teaching Technique Modules will concentrate on specific topics, such as Holding Space, Incorporating Sanskrit, The Role of Music, Cultivating Yoga Prana, Teaching Outdoors, Teaching Demos, and more.
First Invite to Premier Events
As a member, you receive the first invite to participate as a Volunteer, Assistant, or Teacher at events and festivals AIReal Yoga participates in. Current events include Wanderlust Festivals, Wanderlust 108s, Bhakti Fest, Shakti Fest, Telluride Yoga Festival, LA Yoga Expo, and more. Events are the perfect opportunity to meet like-minded people and purpose-driven businesses, introduce new yogis to aerial yoga, provide AIReal Yoga demos, expand our community, hone your teaching skills, and learn to deliver a safe and enjoyable class to new audiences of varying yoga experiences and skills.
Preferred Pricing & Perks
Members that are also certified AIReal Yoga instructors receive preferred pricing on a variety of items, including: AIReal Yoga branded yoga clothes and yoga gear, AIReal Yoga trainings, AIReal Yoga retreats, and our partner products. Plus, as AIReal Yoga continues to grow and connect with like-minded businesses, we will work to integrate these business partnerships into the Affiliate Program and extend additional benefits to you. Not an AIReal yoga instructor? Join one of our teacher trainings and get 3 months of free membership!
Carmen Tausend-Curtis you, my friend are a true expert. Your passion and wisdom for your craft is unparalleled. I am utterly blown away by the amount of information, inspiration and creative prowess I walked away from the AIReal Yoga™ Teacher Training with.
What you think you become, what you feel you attract, what you imagine you create!
I feel so honored to learn from a true goddess! Thank you Carmen for sharing light! xo
Carmen Puts full heart and soul into her teaching and created a program I feel very proud to be a part of.
I just did a class and wow it was awesome!!!! I needed this and hearing your voice brought back memories! This year I have been so busy with my 300 Hr intensive, and have been so engulfed in my ground based practice, so getting an aerial class from my mentor and teacher was such a gift! I was reminded of something so very important I collected from your AYTT; Which was To Hold back… I am so happy to finally be able to teach two aerial classes a week with random private intro classes, and have this program to inspire me and give me ideas.
Take your practice online. 
How long are my Membership Portal Benefits good for?
Your Membership Benefits are available to you for the duration of your plan. Once your plan ends, you will no longer have access to the Portal, Partner Benefits, or the content within it.
May I download content from the Membership Portal?
Yes, you may download items like marketing material, lesson plans, class sequences, best practices, and other text based items. You may not download the tutorial or class videos or other video based items.
Will Membership Benefits change?
Yes, from time to time we may modify the program based on the evolution of our business, our partnerships, and your needs. We will always do our best to provide you ample notice of these changes and we will always work to supplement existing benefits with additional benefits, as well as continue to offer benefits that support your growth.
What if I am not a certified Aireal Yoga instructor
If you are not an Aireal Yoga instructor you may still sign up for the membership portal and gain access to our awesome classes for your own personal use. This option is great for your at home AY practice. PLEASE NOTE: The portal DOES NOT REPLACE ACTUAL TEACHER TRAINING AND DOES NOT CERTIFY YOU AS AN AY INSTRUCTOR.
What if I am a certified Aireal Yoga instructor?
 If you are a certified AIReal Yoga Instructor we strongly encourage you to continue your education, get inspired and join our membership! We also offer the first 3 months free to teachers who have taken our training. Please contact us if you lost your access discount,
[email protected]
Can I pay month to month?
Yes! You can choose to pay monthly or annually. You get a discounted rate if you choose annually.
Monthly and annual membership are auto-renewing, please cancel your membership before the next pay cycle for either to discontinue charges.
May I share my Account with other individuals?
No, you may not share your account information to allow others to access the Portal. This information is intended to support your personal growth as a teacher and business entrepreneur. We ask that you please honor your commitment to us and respect that each account is intended for personal use, only. The creation, maintenance, and management of the Membership Portal is with our collective best interests and success in mind. Let us please work together to uphold this commitment to one another.
May I share the information in the Membership Portal with other individuals?
No, you may not share the information provided to you within the Membership Portal. This information is intended to support you in your growth as a teacher and business entrepreneur. It is intended for the use of Membership Program Members, only. Any distribution of information or content without our written approval is not allowed.
What are the AY Membership Program Cancellation Terms?
Monthly and annual membership are auto-renewing, please cancel your membership before the next pay cycle for either to discontinue charges.
Will you be adding new Membership Partner Benefits?
Yes, as we continue to grow, develop, and establish new business partnerships, where applicable we will add new benefits into the program.
Do you offer discounts for membership holders that are not AIReal Yoga Instructors??
What exactly is uploaded each month?
Membership program offers one monthly class video with a lesson plan in pdf form, along with intentions and descriptions.
Take your practice online.