AIReal-Assist | AIReal Yoga Training
Learn to assist aerial yoga postures and give added support, including safely entering and exiting, as well as hands on approaches to help relax and enjoy.
This AIReal Yoga™ Training module focuses on aerial yoga posture assists. You will learn fundamental and safety assists and also more advanced touch techniques. The training is for students, teachers and anyone who wants to feel confident in assisting and helping students and clients in a deeper way, and ultimately, allowing students to feel more safe and secure. This Continued Education Training offers a detailed manual and beautiful videos that talk you through the training and show you how to do the assists, along with an opportunity to watch teachers practicing. You can read the manual, watch the training, watch how to practice and then practice on your own.
Hands on assisting can help:
Clarify verbal cues.
Offer support.
Safely increase range of motion.
Reduce fear.
Help correct alignment.
Enhance energy action.
Bring awareness.
Build trust.
Create stability.
Help calm, relax and soften.
We need the comfort, the connection, the security and the powerful emotional and physical health benefits provided by hands-on contact within safe and appropriate situations. In yoga, teachers typically use touch to help educate students about their postures and build self awareness. But we can also use touch in our yoga practice to help calm, soothe and heal. For me, having additional hands-on support during certain yoga postures allows me to feel safe, to deepen and to let go into the posture. An informed, respectful and supportive touch is a benefit to my body, allowing it to soften and relax into the pose. Touch is fundamental to our healing.
Complete Manual ; includes photos and descriptions
Deep knowledge of partner assisted postural release in the hammock.
Basic fundamental assists and safety spotting.
An introduction to therapeutic touch and release orientated movement to help further expand the Aireal Yoga experience for you and your students.
A review of basic Aireal Yoga equipment and principles highlighting specific issues to be aware of when practicing and assisting students.
Review and expand on key anatomical landmarks of the body that are necessary to compassionately and professionally apply touch to the body.
Exploration and practice of the mechanics of touch and of applying touch to your partner, students or clients.
Basic hands on adjustments and advanced assists
Guidelines and key points of approach, posture, and execution for safe assisting of your students and partners.
Application and breakdown of maneuvers to use with your students to deepen their experience and enjoyment of Aerial Yoga.
A strong foundation to assist with strength, knowledge and an open and compassionate heart on the floor and in the air.
Detailed video and manual instruction
Introduction of assess methodology and guidelines to help you safely engage your creativity in assisting.
Continued education units with Yoga Alliance.
Students And Aerial Yoga Teachers 
Yoga Alliance Continuing Education Credits
FAQs | Is this right for me?
Are you interested in deepening your yoga practice and expanding your understanding of assisting your students? YES!
Does this training qualify for Yoga Alliance Continuing Education Credits? Yes! 12 Hours.
What is the difference between the digital only vs the manual + pdf? Choose from the digital access which is our online training with lifetime access or the course bundle, which includes the online training as well as a printed manual and a USB of the course lectures + practice that will be mailed to you.
Do I need to know AIReal Yoga Postures? No, you do not need to know AIReal Yoga because we will teach you how to do each posture that we go over.
When do I receive my certificate? You will receive your certificate as soon as you purchase the training.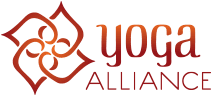 HOw is this training different?
Taught by Carmen Curtis, AIReal Yoga Founder and Master Instructor, and Geoff Helms, acupuncturist, healer and bodyworker. This training is an engaging breakdown of how to assist your students or clients while using the aerial yoga hammock. You will learn and see how to directly apply this essential information to your classes, privates and sessions.
Not just for teachers.
Although this training was created for teachers, it can also be beneficial to healers and for personal use. Geoff has been using this practice for years with his clients to do bodywork and other healing modalities. These techniques will also help guide you in our own practice as we go over alignment and simple shifts that are useful to anyone doing aerial yoga.
Yoga Alliance Continued Education
It is because of our commitment to actual yoga poses and postures that our trainings are Yoga Alliance recognized as an aerial yoga curriculum.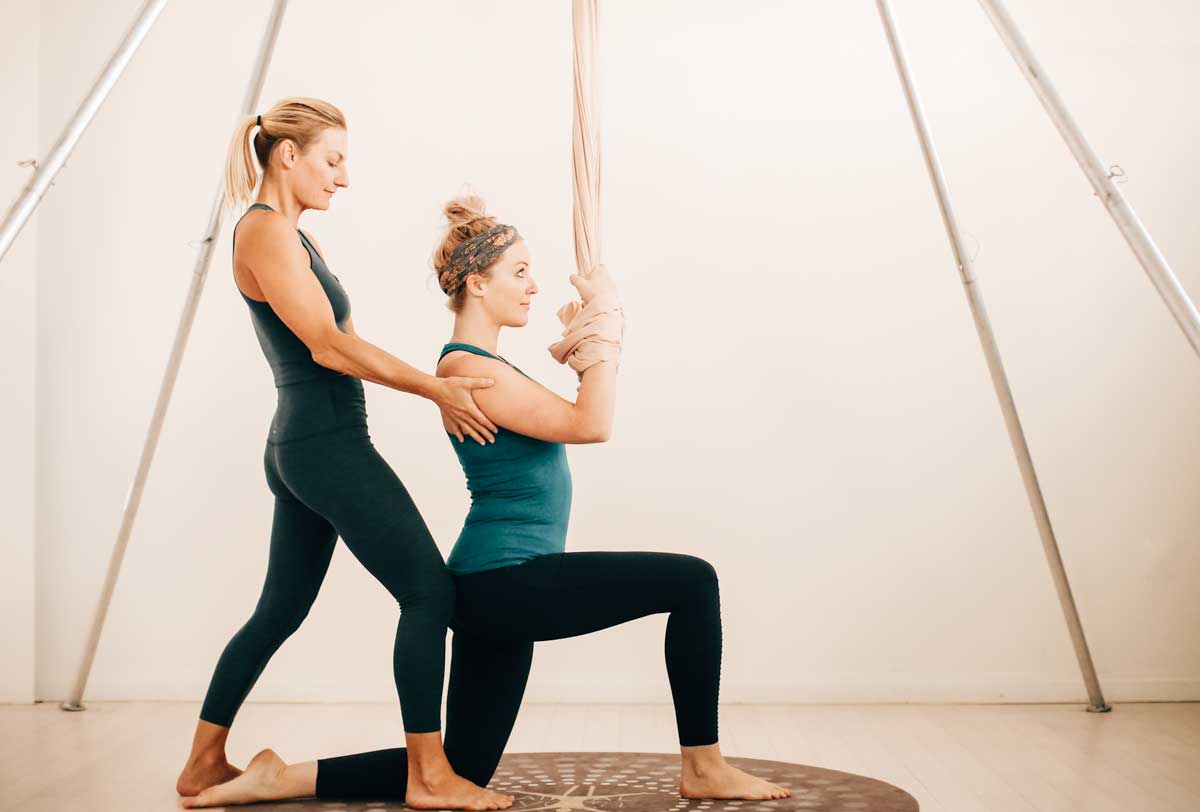 I have noticed over the years there's simply not enough time to educate about the more advanced hands-on adjustments or assisting, especially in the standard 200 hour yoga certification. I have also noticed many 200 hour certified teachers, with an abundance of class experience, who still do not feel comfortable giving hands-on adjustments or assists. Many of them lack the specific training. I believe the ability to provide yoga students with hands on assistance is a crucial part of being an instructor as well as a healer, requiring special attention to the focus of learning and the practice of placing hands on students. This is why this immersion was created; as a way for teachers and advanced students to go deeper, to learn more, be more specific and to learn safe hands on approaches. -Carmen Curtis