Why do AIReal 50 training with us?
Our 50 hour aerial training program is the safest, most supportive, and most rewarding hammock-based methodology available today. Learn directly from teacher's teacher Carmen Curtis as she passes on the lessons learned from over 25 years in professional gymnastics, cirque, and aerial performance.
Following a National Championship gymnastics career at UCLA, Carmen was ready for new challenges. After a transition from the rigors of gymnastics to the equally rigorous world of aerial performance, she thrived in her new arena and her passion for gravity-defying practice grew.
Soon she was working with international performers and recording artists like Beyoncé, Miley Cyrus, and Lady Gaga. Shortly after she was named lead performer and choreographer for Le Reve at the Wynn in Las Vegas, one of the most successful cirque troupe performances of the last ten years.
As her family grew, she wanted to combine her professional experience with the holistic wellness of her yoga practice, and AIReal was born. Today, Carmen and her team dedicate themselves to spreading this practice and its health benefits worldwide.
Since it's start, AIReal yoga has been synonymous with best practices in the aerial yoga space. When we first came to the world of aerial yoga, there was little that met our exacting standards and nothing that came close to what we knew the experience could be. So we developed our own method that would hold up to our lofty expectations and allow us to access the freedom and weightlessness we knew was possible.
Our practice blends the mental and physical, leaving you feeling elevated inside and out. When you spend your time hanging upside down, you'll start to realize that most things are a matter of perspective. Where other methods can be just a flex for your body, this practice yields countless benefits for both body and mind.
Take In Person Or Digitally With Founder Carmen Curtis
Physical Benefits
Relieves compression in the spine
Challenges your central nervous system,
mental capacity + proprioception
Increases pull strength + core stability
Help heal + strengthen back injuries
Improve blood circulation + lung capacity
— slowing the effects of aging
Improved stability, balance + functional mobility
With the hammock's support yoga can be made more accesible to those with less flexibility
Used differently, the hammock can increase the challenge and deepen you yoga postures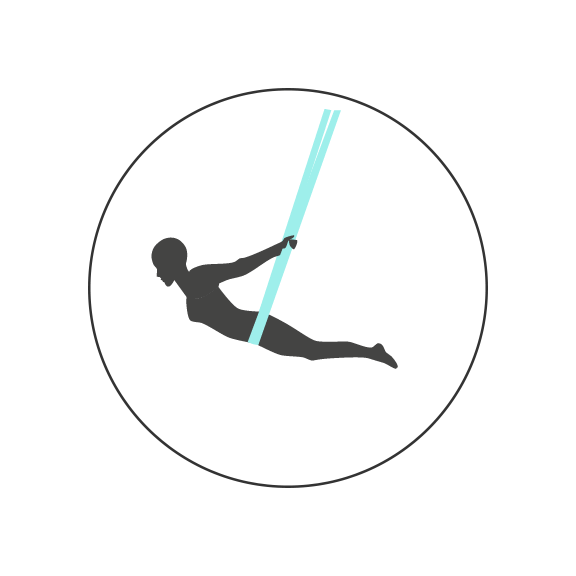 Mental Benefits
AIReal Yoga creates new neural connections
Stimulates the pineal gland -—
increasing your calm + improving your sleep
Increases production of feel good chemicals
like endorphins, oxytocin, serotonin + dopamine
Builds + reinforces self-confidence
Greater focus + concentration
Improves recall memory + retention
More mindfulness, gratitude + joy
The hammock can be used for restorative and meditation therapy
The hammock offers the security of doing safe inversions
Is the AIReal 50 Training right for me?
Whether you're already a certified yoga teacher looking to specialize, or a student looking to plumb the depths of the aerial yoga world, our 50 hour training is everything you need to become an aerial yoga specialist.
Our students come to us from a range of backgrounds and certifications — whether that be as a certified yoga instructor, as a personal trainer, or with no formal training at all — this practice has helped them continue their education and became better teachers and practitioners.
While teachers will receive accredited hours toward their own certifications and continued education requirements, this training is for anyone who is seeking greater knowledge and understanding of their aerial practice.
AIReal 50 is where the curious can go deep and expand their own practice by going direct to the source and studying closely with our founder, Carmen Curtis.
I'd like to introduce you to Shayna. Shayna is a certified AIReal instructor and studio owner, this is her AIReal story:
"If I could share one life changing recommendation for anyone it would be to go to watch Carmen Curtis hanging from the Banyan tree. This is the video that changed my life. To see the founder compassionately sharing with the world what AIReal Yoga is to her was the moment that awakened something in me more than the desire to practice yoga in such a unique way, it awakened a yearning for love, freedom, support and flight… because who doesn't want to fly?!
From the beginning stages of my 50 HR AIReal Yoga Teacher Training, they were attentive, polite, and made sure I felt comfortable financially and mentally. During the training Carmen was thorough, organized, smart, funny, personable and taught with the highest level of compassion for all humanity.
The AIReal Yoga Tribe has created a positive network of support, where you feel like someone is there for you, to guide you, support you, love you, teach you and to help you fly to your highest potential, just like the hammock!
The tribe has made the experience amazing, but the real change comes from your self-practice with the hammock and the healthy relationship it builds between the asana or yoga poses and the practitioner.
The practice will support your body to help assist, stretch, guide, or challenge you in ways you have never imagined, helping you reach new heights tailored to your fitness ability. It's hard to explain how a yoga prop could be life changing, so I will share with you how AIReal Yoga has changed my life.
In the past year the AIReal Yoga practice has helped me lose 35 plus pounds, improve mobility, rehab injuries, strengthen my mental and physical well being. The sense of community, unconditional love, support, freedom has also opened my heart and my mind to a place where I didn't think existed.
AIReal Yoga has changed my life and transformed the person I am today and for that I will always believe in this practice and continue to share, "love in the air!"
Are you ready to take flight and change your life?"
AIReal 50 Teacher Training Member
What do I get with AIReal 50?
AIReal 50 training gives you access to our community of students and teachers who are continuing to learn and grow in aerial yoga. With our online course students have the added benefit of taking things at their own pace and the ability to re-watch postures and flows.
Sometimes a training can move too quickly or something doesn't click. When that happens, you owe it to yourself and your students to spend a little more time questioning and working through the difficulty. With our online training, you can pause, go back, and never feel like you're falling behind. Unlimited viewing means you can find new levels of mastery and depth, elevating the experience for all involved.
Your teacher training includes access to our online digital membership. A fantastic resource for teachers and students alike, you gain access to our entire catalogue of classes and all upcoming and new releases. Your membership also includes lesson plans, sequence breakdowns, and playlists for each class. As a teaching resource, this is everything you need to create a fantastic session for your students or yourself. It's the easiest lesson planning you'll ever do.
Training with us includes:
148 Focused Training educational videos, featuring nearly 25 hours of content and 25 hours of practice

Downloadable detailed manual featuring over 100 postures, including in-depth descriptions, visual walkthroughs, and explanation of poses

Ready to use lesson plans and sequences in a range of styles

Progressions and modifications for working with all levels of experience and expertise

Teacher insights gained from over 25 years of hands on work with students

Training in proper safety methods and hammock rigging

Access to our Teachers Only private Facebook group— a supportive international community of like-minded instructors, practitioners, and studio owners

Certification from the Yoga Alliance

Special access and pricing for live events and further continued education opportunities

One year free access to our AIReal Online Digital Membership (worth $249)
Where has AIReal Yoga taken its teachers?
A letter from Carmen Curtis,Founder, AIReal Yoga

Hi,
When I started AIReal Yoga, I expected it to be something that filled a need for me and some close friends, I could never imagine that 15 years later I would have traveled all around the world, working with some of the top performing artists and yogis of our day, with incredible friends and community spanning the globe. From South Korea, to New York, to Belgium and Austria, this practice has given my family the chance to travel the globe and all while doing so from the comfort of our hammocks.
Sure this won't be the same for everybody and all our paths are different. Whether you come to AIReal to de-stress, to increase your fitness, to connect or to simply have fun, I can tell you honestly that there is no better practice that gives you such a sense of freedom.
I have spent decades of my life creating and perfecting this practice and these teachings in the hopes of supporting others on their own journeys of self-discovery. I look forward to sharing this next step in your life's journey with you.
What happens when I finish my AIReal 50 training?

When you complete your AIReal 50 training with us you will receive your Yoga Alliance accreditation as a specialist in AIReal Yoga. Our past AIReal 50 students now teach in far reaching places from Belgium to El Salvador, from Portugal to Costa Rica, Italy to Australia, Canada to Saudi Arabia, and Mexico to Japan.
This journey is lifelong. When we share the lessons of our experiences, we're all better for it. Whether you want to continue your own personal journey of self-growth or whether you want to specialize further, our AIReal yoga community is with you every step of the way.
"Come and enjoy greater health, better alignment,
a safer practice and most of all personal exploration
and growth through this expansive training"
– Carmen Curtis
AIReal 50 inc. one year Free Membership
$1,720 $599
($1,121 discount!)