Hundreds of poses, One membership.
Tired of living in pain? Want to stop the hurt?
So many of us have some form of back-pain that plagues our daily lives. From nerve pain to muscle ache, the practices contained in the AIReal Yoga Membership are designed to relieve pressure from your joints and disks while helping you to gain proper alignment using the gentle pull of gravity.
Whether you're a teacher or a student looking to expand your practice, this is everything you need to get going and keep at it. Featuring all the equipment including a rig and a hammock,  you'll also get our AIReal Digital Membership – a library of classes and instructions that you can take anytime and as much as you'd like. You'll also receive full lesson plans for you to follow along with or to share with your students, unique bonuses like in-person events, and new classes each month.
In these unique times, we know every dollar counts, so we've made it easy. Using our AIReal payment plan, you can get started, get practicing, and pay it back as you go. No barriers to entry, no red tape, just you, your hammock, and the value of this package.
12 Simple Payments of $104/month
Get The Membership Package
Learn from AIReal educator and thought leader Carmen Curtis.
The membership package includes your own rig, hammock
and access to a year of The AIReal Membership!
12 easy payments + a one time shipping fee to get you your rig and hammock
Access to all classes free for first year and then only $20.75/month thereafter
Star-inversion or handstand
— what's the benefit of inversion?
AIReal Yoga blends the mental and physical, leaving you feeling elevated inside and out. When you spend your time hanging (safely) upside down, you'll start to realize that most things are a matter of perspective. Where other home workouts are just a flex for your body, this practice yields countless benefits for both your body and mind.
The deepest and most healing
Savasana of your life.
Deep Savasana and meditative practices in your hammock add a benefit to your practice because of the way gravity interacts with your body. Float tanks have become a new methodology for cultivating calm, increasing brain functionality, reducing depression and anxiety, and leading to an increased sense of overall wellness and satisfaction. Our unique hammock system allows you to combine your yoga practice with the benefits of a float experience as you defy gravity, and melt into the horizon of your mind. AIReal Yoga is the fun way to access the pure joy and excitement that floating in your hammock provides
Physical Benefits
Relieves compression in the spine
Challenges your central nervous system,
mental capacity + proprioception
Increases pull strength + core stability
Perfect for beginners + all other skill levels
A whole body workout that engages
your small stabilizer muscles
Help heal + strengthen back injuries
Improve blood circulation + lung capacity
— slowing the effects of aging
Improved stability, balance + functional mobility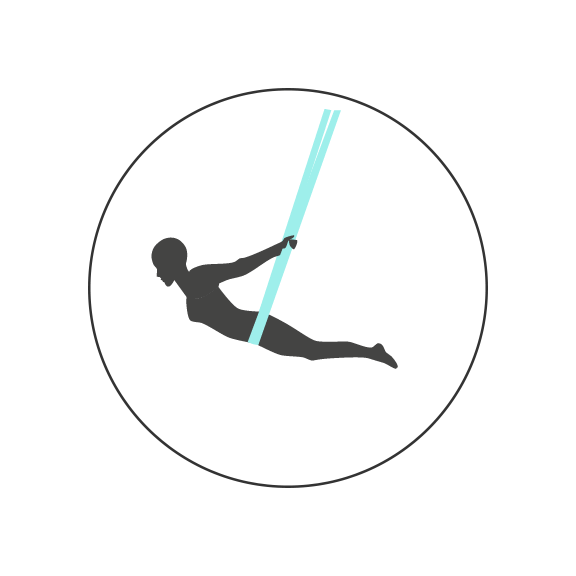 Mental Benefits
AIReal Yoga creates new neural connections
Stimulates the pineal gland -—
increasing your calm + improving your sleep
Increases production of feel good chemicals
like endorphins, oxytocin, serotonin + dopamine
Triggers neurotransmitter production
— increasing well-being + happiness
Builds + reinforces self-confidence
Greater focus + concentration
Improves recall memory + retention
More mindfulness, gratitude + joy
A system built out of years of expertise and hands-on experience.
Following a National Championship gymnastics career at UCLA, Carmen Curtis was ready for new challenges. After a transition from the rigors of gymnastics to the equally rigorous world of aerial performance, Carmen thrived in her new arena and her passion for gravity-defying practice grew.
Soon she was working with international performers and recording artists like Beyonce, Rhianna, and Arianna Grande. Shortly after she was named lead performer and choreographer for Le Reve at the Wynn in Las Vegas, one of the most successful cirque troupe performances of the last ten years.
As her family grew, she wanted to combine her professional experience with the holistic wellness of her yoga practice, and AIReal was born. Today, Carmen and her team dedicate themselves to spreading this practice and its health benefits worldwide.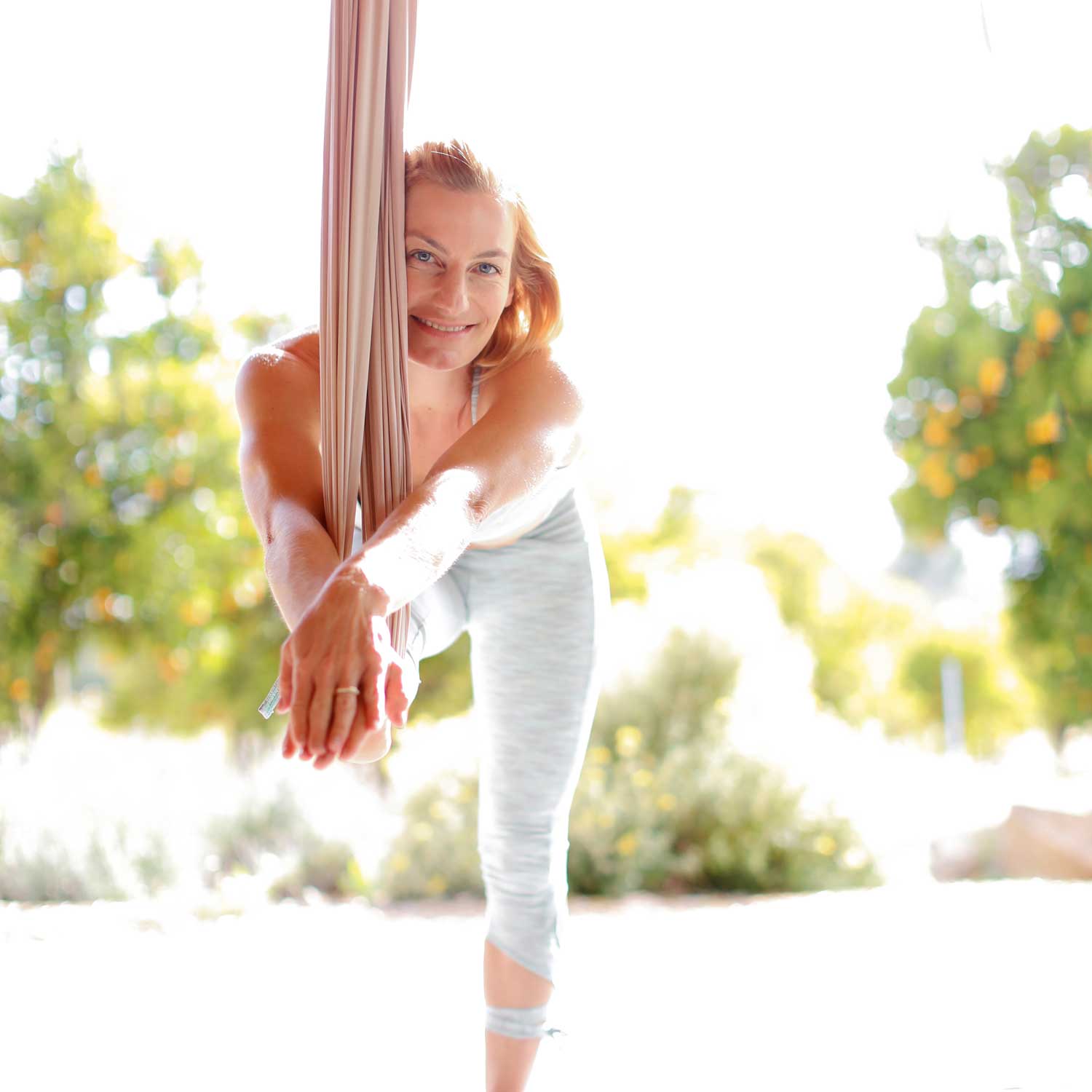 The first aerial yoga program certified by the Yoga Alliance.
AIReal Yoga blends the mental and physical, leaving you feeling elevated inside and out. When you spend your time hanging (safely) upside down, you'll start to realize that most things are a matter of perspective. Where other home workouts are just a flex for your body, this practice yields countless benefits for both your body and mind.
What's coming for members? What else does my membership include?
To that end, we also want to make sure that your experience in our classes is as robust and informative as possible. For each session with us you will have access to a lesson plan, pose breakdowns and sequencing, playlists for your practice, and even suggestions for cultivating sanctuary in your own space or home.
Do I need experience in AIReal Yoga or working with a hammock?
No, we welcome all levels of expertise, and even specialize in newcomers and beginners. The hammock may seem daunting, but it is actually a tool for greater support and assistance in your practice. The beauty of our method is that whether you are a beginner or a 20 year practitioner, AIReal Yoga can be tailored to fit your specific needs.
"
I started feeling fascinated and excited about something new in yoga. But then I realised how supportive and restorative AIReal can be for all ages.
-AIReal Member
"
Being trained in something not quite yet mainstream. People are curious. By talking to me about AIReal, we create a bond.
-AIReal Member
"
AIReal Yoga online classes in three words: Fun, Freeing, Invigorating!
-AIReal Member
"
I finally finished the training, it was quite a volume of incredibly helpful tips, tricks, expertise, knowledge and wisdom.
-AIReal Member
What is AIReal Yoga?
AIReal yoga online is the premiere digital streaming practice for all things aerial yoga. Developed over a lifetime of aerial and cirque mastery by teacher's teacher Carmen Curtis, this program has been designed for students, instructors and performers to bring a unique, supportive, and engaging practice to your world. Be careful, once you try it, you'll never look back!
What is AIReal membership?
Unlimited access to our entire class catalogue of content, with new course materials and unique monthly releases, so you can go deep, cultivating mastery where you want it. You will also receive lesson plans, course PDFs, and other instructional items to continue your AIReal journey. Additionally, as a member you will be eligible for unique access to live events and special offers on silks, private lessons with Carmen, teacher training packages, and more.
Where can I AIReal?
Your hammock is the vehicle, your practice is the journey. Find your sacred space and be met with a sense of serenity and most importantly, ownership. Whether that be suspended from the ceiling in your office, your garage, on a rig out in your garden, or in a studio, all you need for a safe and effective AIReal practice is you, your hammock, and excitement for the untold possibilities that are about to unfold.
Which class is right for me?
Whether you're a beginner learning the basics or a twenty-year vet looking to specialize further, the AIReal membership is perfect for whatever your needs may be. AIReal yoga meets you where you are — Ideal for students and teachers alike, each class builds upon foundational principles that scale easily to whatever level of expertise you desire. Each session comes with a unique mantra to set a collective intention for the practice, detailed lesson plans to follow along step-by-step for students, or for teachers to use in their own instruction, and AIReal specific modifications for you to translate your mat practice to your hammock.
How much does AIReal Yoga Membership cost?
The annual AIReal membership is $249 and provides access to all current courses and new releases. All AIReal memberships include unlimited viewing of class videos, downloadable handouts and lesson plans. With your membership you will also gain early-bird access to live events and unique discounts on products and continued education opportunities.
How do I cancel?
If you don't want to continue your AIReal journey, you can cancel your membership renewal through your account page within the membership portal. Please note that there are no refunds for partially unused membership periods.