Get Setup At Home With Our Starter Bundle
only

$1649

$1249 or $113/month 
Includes Everything you need to do 
AIReal Yoga from Anywhere!
Get to know us and our form of aerial yoga based on REAL yoga, through a FREE YEAR of online Membership with 40+ classes in the library with more added each month, and one of our gorgeous studio-quality hammocks in your choice of color with our engineer stamped aerial yoga rig!
Studio Hammock Kit + Rig in Your Choice of Color
Our kits and rig were designed by our in-house professional rigger: Gregg Curtis, who has rigged shows like Beyonce Tour and Miley Cyrus. Our Rig Bundle include professional-extremely durable hammocks that the Pros use and cirque level rigging equipment. Our standard for safety is unparalleled, if we wouldn't use it we don't sell it.
Each bundle includes:
1 Engineer Stamped Rig made from high quality aluminum to ensure the lightest safest most durable, inherently rust proof aerial yoga rig around that has been engineered for over 1000 lbs of force and certified for safety and quality by a state of California certified engineer. Easy assembly (4 minutes or less) with minimal instruction. Each leg breaks down into two pieces for transport. Can be used for one or two point connection.
1 Studio Quality Nylon Tricot Silk Aerial Yoga Hammock (5.5 yards rated for up to 2,300 lbs)
2 Steel Locking Carabiner (rated for 1900 lbs)
1 Steel Quicklink (rated for 1900 lbs)
1 Swivel (rated for 1900 lbs)
Plus we are throwing in 1 full year of Membership for FREE!
This bundle is valued at: $1,698 but we are giving it to you for $1249 or 12 easy payments of $113/month!
Some of the classes included in your Membership
Built on the foundations of Hatha Yoga and Cirque performance, AIReal is an elevated practice of REAL YOGA. Created by Carmen Curtis following the birth of her second child and a long career in Cirque and gymnastics performance, Carmen Curtis knew her body needed healing as well as a challenge. Focused on the restorative practices of balance, strength, and recovery — she combined over 25 years of personal experience as an aerialist, gymnast, and performer with her needs as a mama and yogi to create a program that gave her exactly what her body and mind needed. She climbed into a hammock and never looked back.
15 years later, AIReal Yoga has been pursuing a mission of personal elevation, self-refinement, and balanced support for students and teachers alike. Relying on the time tested postures of yoga, AIReal relies on the hammock to safely assist one's practice and elevate the experience to new possibilities. Making postures easier or more challenging depending on the needs of the student. This focus on safety and accessibility is at the heart of everything we do.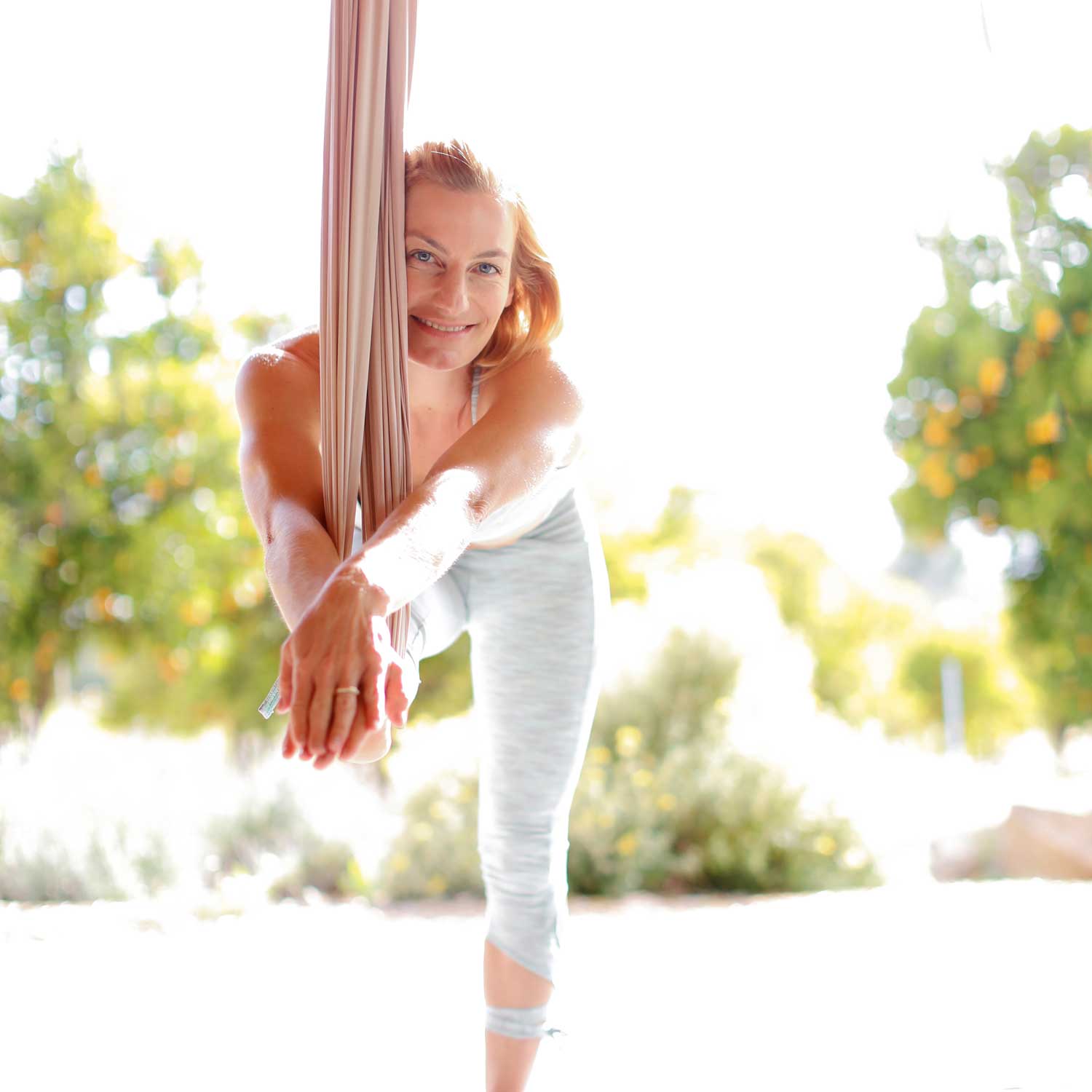 The first aerial yoga program certified by the Yoga Alliance.
AIReal Yoga blends the mental and physical, leaving you feeling elevated inside and out. When you spend your time hanging (safely) upside down, you'll start to realize that most things are a matter of perspective. Where other home workouts are just a flex for your body, this practice yields countless benefits for both your body and mind.
"
I started feeling fascinated and excited about something new in yoga. But then I realised how supportive and restorative AIReal can be for all ages.
-AIReal Member
"
Floating in the hammock was blissful profound and therapeutic.
-AIReal Member
"
AIReal Yoga online classes in three words: Fun, Freeing, Invigorating!
-AIReal Member
"
I finally finished the training, it was quite a volume of incredibly helpful tips, tricks, expertise, knowledge and wisdom.
-AIReal Member
Happy AIReal Yogis on our rig setup: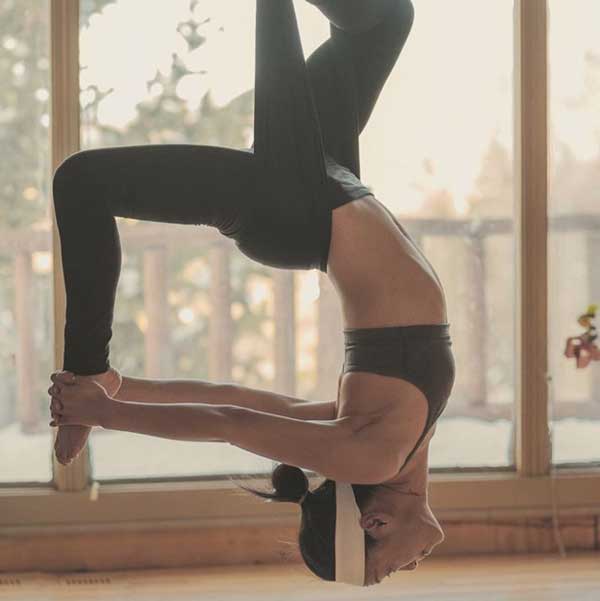 Get Setup! Only $113 a Month! 
Learn from AIReal educator and thought
leader Carmen Curtis, with 40+ classes
+ get an engineered portable rig!
Access to all classes is free for your first yearand rig bundle payment plan is based on for $113/month (for 12 months)
What is AIReal Yoga Online?
AIReal yoga online is the premiere digital streaming practice for all things aerial yoga. Developed over a lifetime of aerial and cirque mastery by teacher's teacher Carmen Curtis, this program has been designed for students, instructors and performers to bring a unique, supportive, and engaging practice to your world. Be careful, once you try it, you'll never look back!
What is AIReal membership?
Unlimited access to our entire class catalogue of content, with new course materials and unique monthly releases, so you can go deep, cultivating mastery where you want it. You will also receive lesson plans, course PDFs, and other instructional items to continue your AIReal journey. Additionally, as a member you will be eligible for unique access to live events and special offers on silks, private lessons with Carmen, teacher training packages, and even make money through our affiliate program! 
Where can I use my AIReal rig?
Your hammock is the vehicle, your practice is the journey. Find your sacred space where you can enjoy. The space needs to be 9 ft x 9ft minimum and can be used indoors or out. The rigs are light and portable with a setup time of under 10 minutes once you get the hang of it!
Which class is right for me?
Whether you're a beginner learning the basics or a twenty-year vet looking to specialize further, the AIReal membership is perfect for whatever your needs may be. AIReal yoga meets you where you are — Ideal for students and teachers alike, each class builds upon foundational principles that scale easily to whatever level of expertise you desire. Each session comes with a unique mantra to set a collective intention for the practice, detailed lesson plans to follow along step-by-step for students, or for teachers to use in their own instruction, and AIReal specific modifications for you to translate your mat practice to your hammock.
Do I need experience in AIReal Yoga or working with a hammock?
No, we welcome all levels of expertise, and even specialize in newcomers and beginners. The hammock may seem daunting, but it is actually a tool for greater support and assistance in your practice. The beauty of our method is that whether you are a beginner or a 20 year practitioner, AIReal Yoga can be tailored to fit your specific needs.
How much does AIReal Yoga Membership cost?
The annual AIReal membership is $249 and provides access to all current courses and new releases. All AIReal memberships include unlimited viewing of class videos, downloadable handouts and lesson plans. With your membership you will also gain early-bird access to live events and unique discounts on products and continued education opportunities. We are gifting this membership to your for Free for the first year!
How do payment plants work?
We have partnered with Affirm! When you click to get started you will be taken to our Shopify store where you will have the option of choosing Affirm at checkout, by choosing Affirm you will be directed to checkout through them. The process is easy and quick!
Do I have to do a payment plan?
Nope! You can also choose to just pay for The Bundle (Rig + Hammock) all at once and you will still get FREE access to The Membership for a year!
How do I cancel?
If you don't want to continue your AIReal journey after the year membership, you can cancel your membership renewal through your account page within the membership portal.