Take Your Aerial Yoga Practice Anywhere
Online Classes, Trainings and Workshops with Founder and Master Instructor Carmen Curtis.
Three Ways To Take Classes With Us Online
Online Monthly Membership
Ulimited aerial yoga classes for only $25 a month  with Carmen Curtis. We add new content each month!
Online trainings with an emphasis and deep dive on a specific type of aerial yoga.
Aerial Yoga Classes Online. Anytime. Anywhere. At Your Own Pace.
When you choose to take classes with AIReal Yoga, you are choosing the premier and most recognized aerial yoga training available.
Plus AIReal Yoga is recognized by the Yoga Alliance. This means your hours count towards the Yoga Alliance foundational (200HR) and Continuing Education (YACE) requirements. This also means that our classes meet the requirements to be considered real yoga, not a tricks based aerial practice. Our online offerings are perfect for both students and teachers!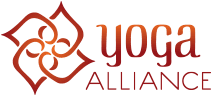 Spice up your sequences with new yoga class styles and themes to add to your repertoire. If you are an aerial yoga instructor, Carmen delivers thoughtful Class Lesson Plans that will help you build and strengthen your ability to deliver impactful and meaningful aerial yoga classes of varying styles to your students. From aerial yoga for beginners to power yoga to restorative and yin yoga, Carmen's Classes will include the Class Theme, Class Level, Intended Student Base, Class Sequence, Yoga Class Video, Teaching Techniques, Benefits of Incorporated Yoga Postures, and accompanying Playlist. Keep your practice or teachings fresh, fun, and flying high. This is your must-have Yoga Schwag Bag.
If you are a student, take as many classes as you want anywhere and anytime for the price of one yoga class a month!
"I have never had so much extensive thoracic pain relief before. This hammock is my saving grace."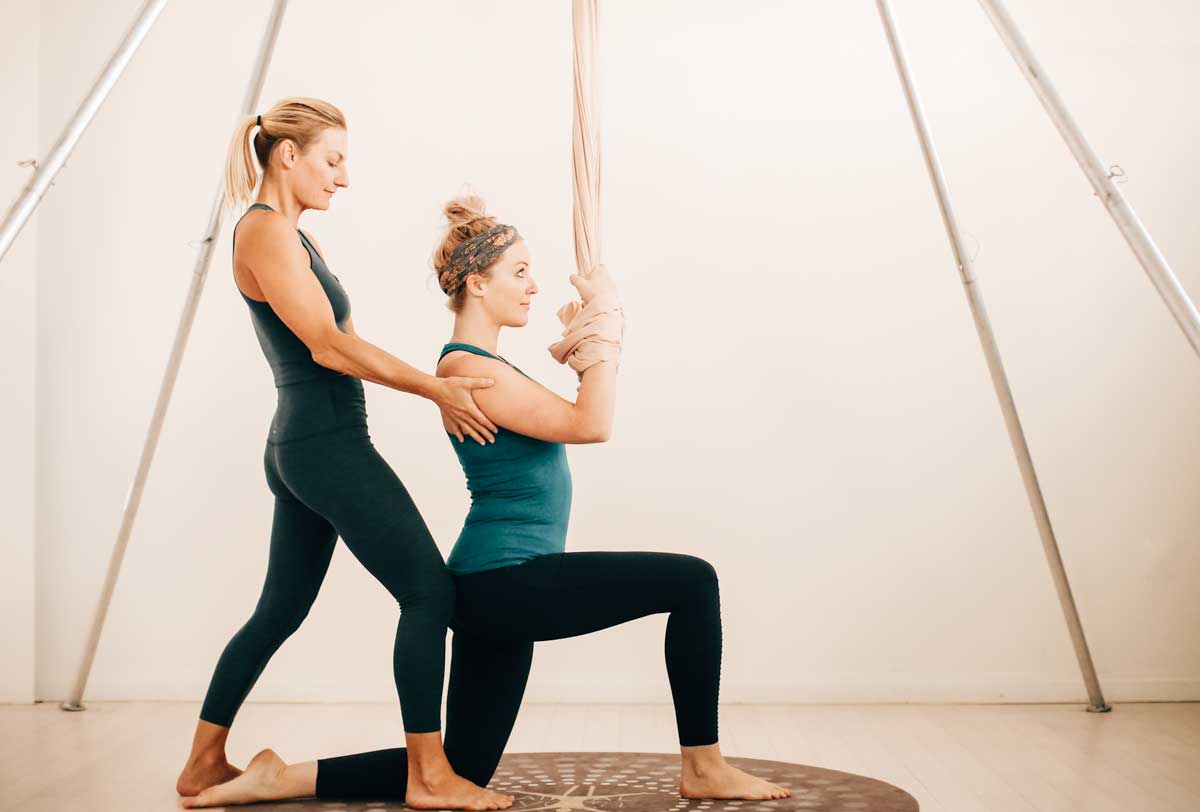 The hammock safely guides you into yoga postures you might have thought impossible.
We offer monthly memberships with new content added each month for a sweet price of one aerial yoga class. In addition to the video class, we also provide a visual layout of the class and a written intention for every class. Each class we add is thoughtfully sequenced by founder and master instructor Carmen Curtis and perfect for any level with options for advanced and beginner students.
We also offer one time purchase trainings, that count toward your Yoga Alliance continueing education. These training are typically much longer than 60 minutes and you have the option to download the manual or have one printed and sent to your house.
Other ways to train with us.
Take a training with us in person:
We offer 50 hour and 200 hour teacher trainings, as well as immersion trainings. Join us at a studio near you, or take a trip and make an adventure out of it!
If you would like to practice with one of our certified AIReal Yoga instructors at any of our certified studios you can find one near you here.
Why is it so significant that AIReal Yoga™ is recognized by the Yoga Alliance? The Yoga Alliance is the preeminent Yoga organization in the United States whose mission is to set the standard for teacher training in the Yoga industry. "Credentialing is at the core of everything we do at Yoga Alliance. When searching our registry, a potential student can trust that a Registered Yoga Teacher has a certain level of education and experience, in accordance with our standards," AIReal Yoga™, unlike many other forms of aerial yoga, adheres to the standards set by the Yoga Alliance and has had the honor bestowed upon them by the Yoga Alliance after a very long a deliberate process of certification.
How do I know that an aerial yoga hammock is hung safely?Official AIReal Yoga™ studios have been designed and rigged by our professional entertainment riggers. We go above and beyond safety standards. Each point is safe for a minimum a 1000 pounds! This ensures that you and your students are absolutely safe and the rigging will not fail. When rigging from home, it is best to get a professional opinion. We are always here to help, and if your job needs extra attention you can always request a rigging consult.
Are there any physical limitations to participating in AIReal Yoga™? Absolutely not. AIReal Yoga™ is designed as a practice that everyone takes at their own level. Instructors are specifically taught to guide students to practice within the limitations of their own mind & body. As students practice more they will constantly surprise themselves as they take their practice further and do things that they may have not thought possible. In this way they are breaking free of those limitations and discovering a world of possibility.
Does this training qualify for Yoga Alliance Continuing Education Credits? Yes! But they will count towards non contact hours if you are taking them online. Note: All online courses taken online during COID-19 March 2020-June 30 2020 will count towards contact hours. 
Can beginners take class? AIReal Yoga™ is designed for all levels. Beginners to the most advanced Yogi's. There are modifications for the the beginner and poses made even more challenging for the more advanced. When taking a teacher training, it is important to be familiar with aerial yoga and we recommend taking some classes before, join our membership or get a few one time purchase classes to try it out first!
What is the difference between AIReal Yoga and Aerial Circus? AIReal Yoga™ is real yoga that uses the hammock as a prop you can hold on to for balance and as a spotting device. It is not based off of tricks or flips, and instead uses the yoga teaching lineage passed down from yoga's traditions, philosophy and history. Learn more on our blog.
Do you offer payment plans?YES!! If you would like to make payments on our online classes or trainings please get in touch. 
We sell rigs, hammocks and gear for your at home practice!
All of our rigging equipment is held to the highest standards ensuring the safety and longevity of your gear. 
Have a question about our form of aerial yoga? Nervous about taking a training. Ask away. We would love to help!