Take Your Practice To A Higher Level
Do AIReal Yoga.
Practice AIReal Yoga.
Elevate With AIReal Yoga.
Join our growing community of AIReal Yogis and embark on a journey doing what you love.
AIReal Yoga is not just a teacher training program but a brand of aerial yoga that supports you along your journey in the air. Whether you want to teach or simply grow and learn. The AIReal Yoga™ Training curriculum creates an opportunity to explore the asana with an aerial dynamic while keeping the integrity of a true yoga practice.The training is based in traditional Hatha Yoga and incorporates critical fundamentals to advance your practice, take you deeper into the many layers of yoga, and enable you to both progress as a student and, if you wish, embark on your teaching journey. We really believe that this yoga is for everyBODY. As a student or teacher you can practice at home with our online program, find a studio near you, or sign up for one of our trainings.
If you wish to become a teacher, we have a teacher path that includes a 50 hour, 200 hour and 300 Teacher Training program recognized by the Yoga Alliance. In addition, our dedicated teachers have the opportunity to become a Lead Teacher and teach their own trainings.
"Let the beauty of what you love be what you do." – Rumi
Becoming an AIReal Yoga Instructor opens up new teaching possibilities for both experienced and new yoga instructors, from generalized aerial yoga instruction to niche areas of expertise, such as restorative, prenatal, aromatherapy, and more. Our form of aerial yoga is based off REAL yoga postures making it truly accessible for all students from all walks of life.
When you choose to continue your journey with AIReal Yoga, you are choosing the premier and most recognized aerial yoga training available.
Plus AIReal Yoga is recognized by the Yoga Alliance. This means your hours count towards the Yoga Alliance foundational (200HR) and Continuing Education (YACE) requirements.Once you begin your journey with AIReal Yoga, more training hours and opportunities are made available to you through immersions, workshops, advanced training, retreats, contact hours, festivals, events, and more. As we grow, you grow.
Two Ways to Become a Certified AIReal Yoga Instructor.
FOR NEW STUDENTS/TEACHERS:
Our 200-hour Registered Yoga School is a Yoga Alliance recognized program that includes a 50 hour aerial yoga curriculum.
FOR EXPERIENCED TEACHERS:
If you have already obtained your  200HR Certification, you can take our AIReal Yoga Focused 50HR Teacher Training (AYTT50).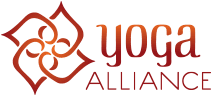 Two Ways To Practice AIReal Yoga
Take Your Practice Anywhere With Online Classes:
We offer a monthly subscription to online classes with new content added each month for the cost of 1 yoga class! We also have full trainings available that work for continued education for teachers but are also designed for anyone who wants to deepen their practice.
If you would like to practice with one of our certified AIReal Yoga instructors at any of our certified studios you can find one near you here.
We believe in creating partnerships with our studios where we work together.
We all have the same goal. To offer the best most comprehensive yoga alliance recognized aerial yoga around. If you are a studio or know a studo that could benefit from offering AIReal yoga lets talk!
Have a question about our form of aerial yoga? Nervous about taking a training. Ask away. We would love to help!